My most special piece of drum gear.
Holding sentimental value as well as extreme rarity and stunning unique qualities, this is certainly a special piece of gear in anyone's collection!
Unique, Exquisite and Australian hand Made
Convict Drums produce 100% natural handmade stone snare drums. Uniquely Australian, even the name Convict is a nod to Australia's history. Using solid granite, these drums not only visually look stunningly beautiful, sonically it 'hit' a whole new level. Aggressive, Responsive, Sensitive and Crisp, with the ability to articulate the softest ghost stroke and a rimshot that can take your head off.
Each drum is masterfully handcrafted by expert stonemason Kris Cadogan meticulously and painstakingly from solid pieces of granite stone. Producing some of the most unique snare drums available.
Why this drum in particular?
I was asked by a student "what's your most prized drum?"
My answer was my Convict Snare Drum, hands down!
I've played a lot of drums over the years and owned many, many snare drums. I have had custom drums built that I have designed and had built out of some of the oldest workable wood. I'm lucky enough to own one-off prototype Snares that I'm not allowed to know the exact composite of. Yet ONE drum instantly came to mine when that question was put to me.
Read below to find out why its so special to me…
I've had my Convict Drums Granite snare drum roughly about a year now. I received the drum just as COVID19 started to cause mass cancellation of my bands gigs. This drum was a ray of light for me in what was a very rough time for a lot of people including those in the music scene. 
Kris sent me the drum out of the blue. I had followed his work on social media for a while admiring his craftsmanship and use of a truly unique material to make his boutique instruments from. I'm not sure any other drum builder uses stone.
I'm honoured to have such a 'one of a kind' special instrument. I treasure it dearly. It is a small club that I'm proud to be a member of. The likes of Lucius Borich of Cog, Rob Hirst of Midnight Oil, Chris Allison of Plini & Will Calhoun of Living Colour.
This drum inspires me each time I sit down at the kit to play it. I can't say that about many other pieces of gear. Sonically it offers a beefy slap of a backbeat with timbale-esque edge overtones. a wide dynamic range and a cross-stick that is unmatched with its tone and cut!
Follow them on social media or for any enquiries contract kris at info@convictdrums.com.au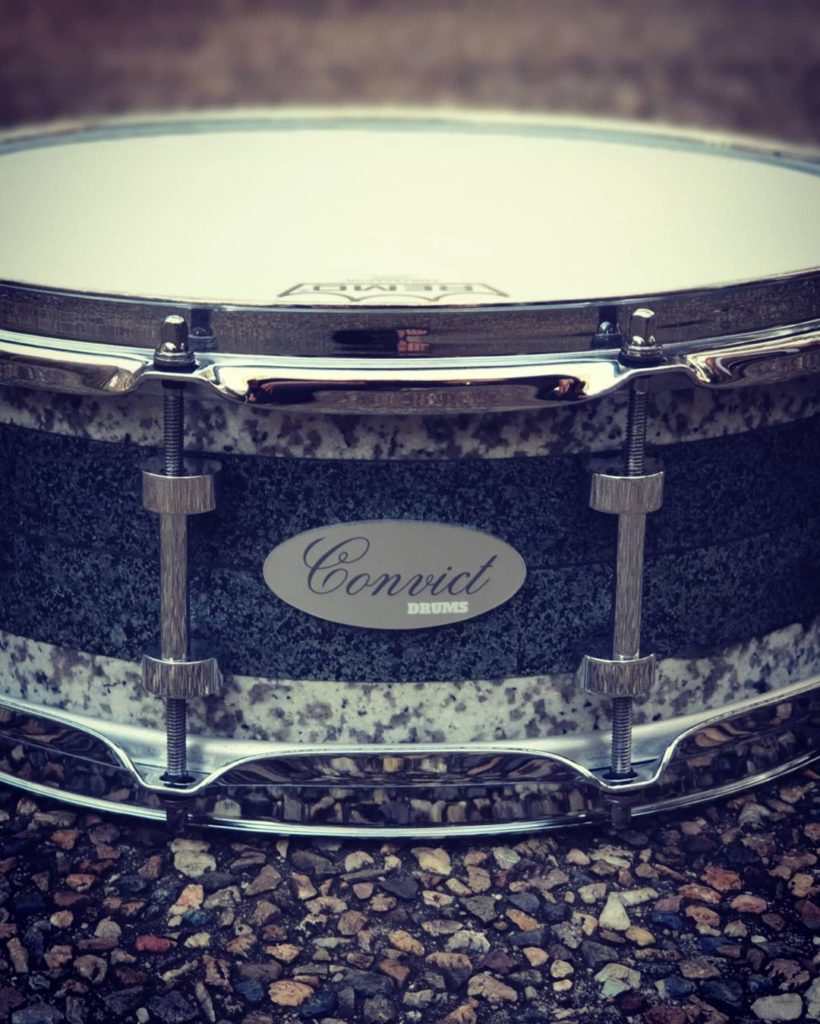 Want to find out more about drum lessons?