drum Lessons
For All Levels
Starting out on your drumming JOURNEY
Like a blank canvas, starting drumming lessons fresh from the start can be a good thing. BNE Drum Lessons offer dedicated coaching to help guide your learning. This ensures you cover all of the important aspects set by set whilst shaping correct technique.
a little help along the way
It's very easy as a musician to find yourself at a plateau with one's playing. We've all been there trust me. I specialise in seeking out holes in student's playing and topics they may have missed as well as new ways to apply things they already know. 
taking your playing to the next level
Intended to push the boundaries of our musical capabilities  This is where our playing gets serious yet satisfyingly fun. Taking concepts as far as we can think to push them and opening up our musical vocabulary in addition to inspiring creativity.  
Drum Lessons are held in the leafy South-west Brisbane suburb of Forest Lake 4078.
Lesson Prices are $39 per 30 minute lesson & $75 per hour lesson with both 30 minutes & 60 minutes weekly lessons held in 10 week term blocks which correspond with the Qld state school calendar terms.
Lesson time-slots run Monday through Thursday from 1pm till 6pm and on Saturdays from 9am till 2pm. Time-slots are subject to availability.
With 2 acoustic drum kits setup for easy demonstrations as well as a host of other toys to enhance the learning and lesson experience. Such as electronic drums and sample pads, recording equipment and other musical instruments. All you need to bring is your sticks and a folder for handout sheets, everything else is provided.
Drum lessons cover all styles as well as learning to read, theory, rudiments and more.
A one-off 30 minute trial lessons is available for $39 for new students to see if lessons are right for you before signing up for the term.
Our Programs Are Tailored To Suit You
Beginner, Intermediate, Advanced
Music theory is in my opinion a vital tool to help us better understand how music conceptually functions and reading music notation will be beneficial in many musical situations. It allows us to communicate with other musicians about pieces of music or musical ideas as well as expanding our creativity on our instrument.
Playing an instrument can be so much fun. the goal of which is to make music. We learn to keep time while playing along to songs. We cover many patterns you'll hear in top 40 songs both current and previous generations across a vast array of genres. Students can even record a play through cover video once they've learnt a song.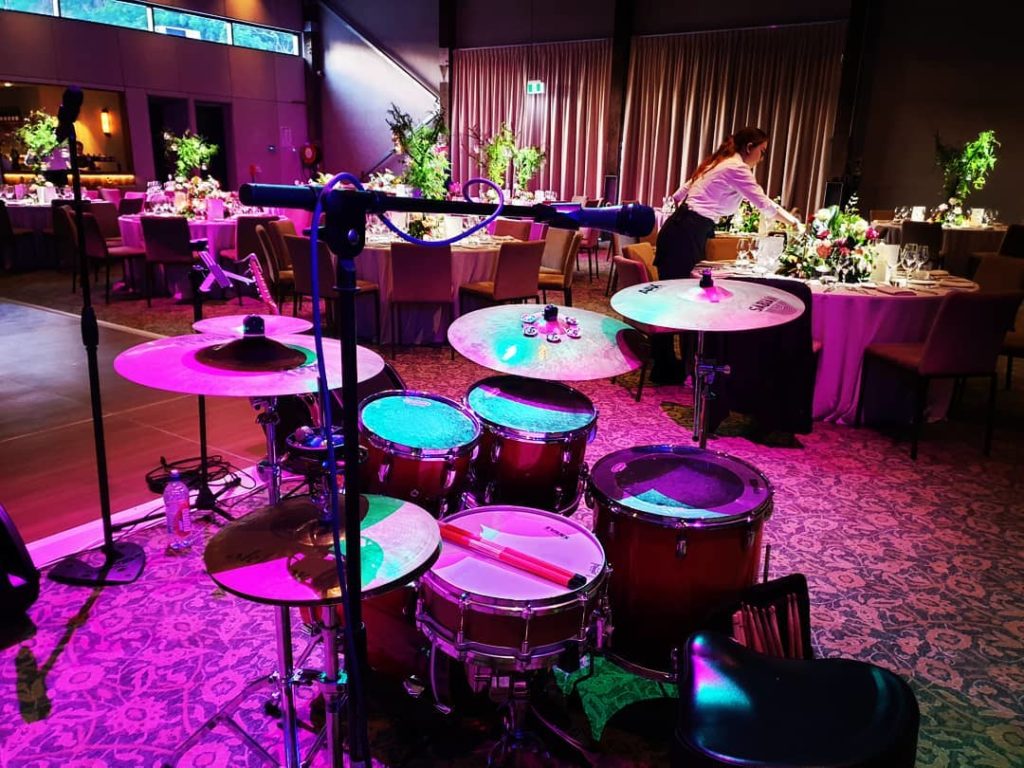 Beginner, Intermediate, Advanced
Rudiments are the rhythmic building blocks of our vocabulary. There are 40 Standard rudiments on the Rudiment chart. There are multiple ways to play and orchestrate these around the drum set. There are also modern day Hybrid Rudiments such as the Herta and Blushda which are becoming increasingly used in modern kit playing
There's so much good music out there why limit yourself? Each genre of drumming has it's unique style and language. While there are no rules it often helps taking this into account. A 'Bossa Nova' or 'Mozambique' may sound more at home in a Latin based tune than playing a straight 'Rock Beat'. 
Tackling the question "what is time…. keeping?" An in-depth look into an array of fascinating and tricky set of complex musical ideas. Be warned there may be a little maths involved.
Beginner, Intermediate, Advanced
If you need assistance in purchasing or maintaining drum gear I'm happy to help. Drums may all look similar but there's a big difference between the quality. I've spent years keeping up to date with drum innovations and the latest technology and have a wealth of knowledge of product range.  
FREQUENTLY asked questions
what age do you start teaching?
Each student is ready to start in their own time. 7yo is generally a good age to start drum lessons but some benefit from waiting a little longer. There's always the option of a one off lesson to see how they find it.
do i need a drumkit to start lessons?
Not to start with however at some stage you will need to invest a drum kit to practice on if you want to make progress. I wouldn't rush out and buy your child a drumkit if they're new to drum lessons until you are sure they're wanting to continue and put in regular practice. A practice pad, pair of sticks and a free metronome app is all that's needed to start.
Acoustic drums vs Electronic drums, Which should I get?
This depends on your personal situation. Which will allow you to practice more? How much space do you have? What's your budget? (edrums will set you back roughly twice as much for a decent kit) Can you make loud noise without annoying others? Acoustic drums are generally preferable however electronic kits have come along way. Whichever you choose should be based on what will allow you to practice more.
Where do i buy drumsticks from?
Music stores generally don't have much of a drum department so not all stores will have the right size sticks. The music spot at browns plains is the closest to lessons but are limited in stock. I highly recommend Just Percussion. Make sure you get a decent brand and stay away from the cheaper sticks. I good pair should cost $20 up. Please don't purchase sticks from JBHiFi or School Locker. Or cheaper lines. Vic Firth American Classics, Meinl, Promark, Zildjian all make good sticks.
Will you come to mine to teach me?
Unfortunately no sorry, my music equipment is essential to optimising the learning experiences. Lessons are back to back so i wouldn't be able to fit in travelling to students locations.
Do you do a free trial lesson?
No I don't sorry. You're welcome to book in a lesson to see how you go but all one-off trial lessons are charged for. You will also need your own sticks for all drum lessons
Ready to pursue
your dream
There's never been a better time to start drum lessons!